October 4th, 2022
Colette, Coworking Club for Ultra-Wealthy, Coming to NYC's G.M. Building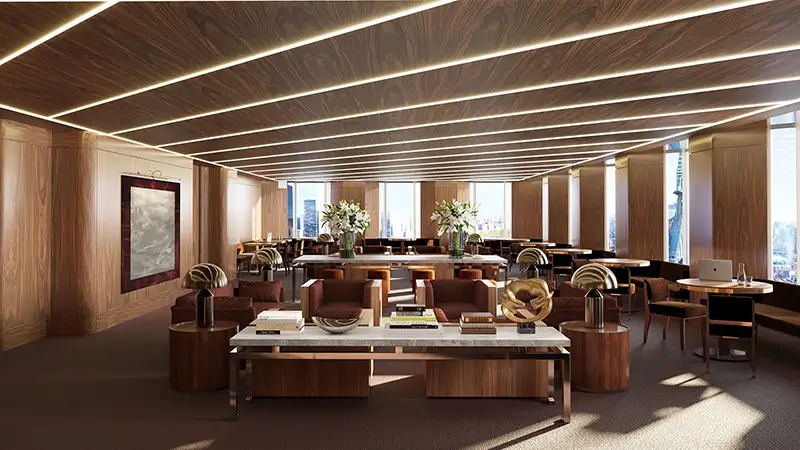 Photo Courtesy of Colette
As workers return to offices around the country, the coworking sector may be rebounding. A key piece of evidence: A coworking club for the uber-rich will be coming soon to the G.M. Building in Manhattan. A few months ago, a group of investors announced plans for Colette, a private coworking club for people willing and able to fork over upwards of $125,000 to get their foot in the door.
The group behind the upcoming high-end coworking facility consists of renowned restauranteur Juan Santa Cruz and Edmond Safra, part of the billionaire Safra family, which owns a stake in the iconic building. Colette will be located on the 37th floor of the office tower, which is located at 767 Fifth Avenue in Grand Army Plaza at the southeast corner of Central Park.
Occupying an entire city block, the G.M. Building stretches between 59th Street, 58th Street, Fifth Avenue and Madison Avenue. Completed in 1968 and designed in the International style, half of the building was initially occupied by G.M. With more than 1.7 million square feet of space across 50 floors, the 705-foot-tall tower boasts a façade of white Georgia marble broken up by long strips of glass.
In the media, the group behind Colette stated that people aren't using their offices like before the pandemic. Although many New Yorkers are back in the office, plenty of top execs aren't – and likely won't be any time soon. Many wealthy people, in particular, bought large homes outside of the city when the shutdowns started, investing in pieds-a-terre to use when in the city. Colette is designed for such ultra-high-net-worth individuals – people who need high-end places to conduct business while in Manhattan.
The new coworking club will also target wealthy businesspeople who come to New York for business but prefer an elegant, private office over standard coworking options. Poised to open next year, Colette will feature 23 poshly appointed private offices with 400 square feet of space. Each private office will have its own heating and cooling system, lighting and other infrastructure.
The club will have a private entrance on 59th Street, allowing members to duck in and out quickly. Initially, only 300 memberships will be offered. The initial membership fee is $125,000 – a price tag that's sure to scare away most people. On top of that, members must pay $36,000 annually to keep their membership current. Should members decide they don't want to be in the club anymore, they can sell their shares to others.
In exchange for hefty fees, members of Colette enjoy truly lavish accommodations – especially from a coworking standpoint. The facility features state-of-the-art Internet connectivity and plenty of high-tech touches. Members enjoy access to the G.M. Building's impressive amenity center. Sprawling across 35,000 square feet, it includes a wellness-inspired fitness center, a conference center with a lounge and bar for tenants only and staff who do everything from pouring coffees to providing tech support.
The amenity center also features Coco's restaurant, which will have a larger membership than the club itself. Members automatically gain access to Coco's, but others can also buy shares to enjoy access. Thus far, the team behind Colette's hasn't announced how many restaurant-only memberships it will offer.
In the decade leading up to the pandemic, coworking facilities gained a lot of momentum – especially from startups seeking affordable, flexible space. Most coworking facilities allow people to rent everything from a single desk to an entire suite of offices, and the majority offer meeting space, various amenities and support services.
When the pandemic struck in early 2020, mandatory shutdowns and stay-at-home orders caused offices around the country to empty, but it was especially evident in NYC. In turn, demand for coworking space wilted, and millions of square feet of it shut down. During the first six months of 2021, WeWork – the best-known and most successful coworking firm – lost $3 billion. Many other coworking firms have gone under too.
Fast-forward to late 2022, and offices are starting to fill up again. Across the 10 largest cities in the U.S., 38% of office workers were working remotely in the spring of 2022 versus 50% in October 2021. Since the city's office space market appears to be rebounding, it may be the perfect time for a concept like Colette's. Dubbed the "WeWork for the .01%," the club will offer unparalleled views of Central Park, the Plaza Hotel and the iconic NYC skyline. When paired with the high-end offices, lush amenities and top-notch support services, the new coworking club is bound to become a hot commodity among the uber-wealthy.
The new coworking club will also likely breathe new life into the G.M. Building, which suffered the effects of the pandemic like every other piece of commercial real estate in the city. The building served as the site of the Savoy-Plaza Hotel for many years before reverting to offices. Its prime location in the heart of the city is a natural site for a high-end coworking concept like Colette's.
Even as the coworking industry appears to be perking up a little, there's no telling how well the new club will perform. With only 300 memberships being offered at first, it appears that the team behind Colette's wants to keep it as exclusive as possible. Given the sky-high fees associated with being a member, the club shouldn't need too many to stay afloat.
Still, the commercial real estate market in NYC remains in flux, and it will be interesting to see how well concepts like Colette's fare. As the economy continues to heal from the pandemic, demand for coworking space may tick back up; however, with more workers staying remote permanently, the office space market may never rebound to what it once was.
If you are interested in becoming a member of Colette or are seeking high-end coworking space in NYC, BCP Real Estate Group can help. We have robust online lists, a website loaded with useful information and connections with skilled real estate brokers across New York. Give us a call today for more information.