October 4th, 2022
Design Firm Signs Largest Office Lease in Brooklyn Since January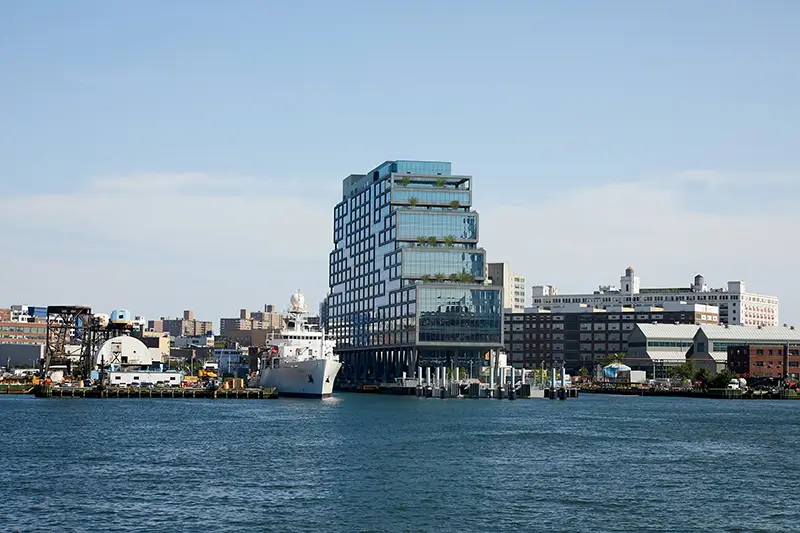 Photo Courtesy of Dock72
Dock72, the ship-shaped building dominating the Brooklyn Navy Yard, has snagged a new tenant. In August, Huge, Inc. – a design and innovation firm headquartered in DUMBO since the late 1990s – signed a lease to occupy the top two floors of the iconic new building. The firm will occupy 71,000 square feet across all of the 14th floor and part of the 15th floor. The 12-year lease represents the biggest deal for the building since WeWork signed a 220,000-square-foot pre-lease to get the ball rolling on construction.
Founded in 1999, Huge has been a DUMBO fixture for decades, where it has been leasing 80,000 square feet of space at 45 Main Street. The firm hit the ground running after opening, signing a deal to revamp IKEA's website. In the years that followed, Huge worked with many high-profile clients; the list includes CNN, Target, JetBlue, Pepsi and Reuters. In July 2022, Huge laid off 3% of its global workforce in response to challenges imposed by the pandemic. By occupying new space at Dock72, the firm appears to be positioning itself for its next phase.
Dock72 made a splash upon opening at the Navy Yard in 2019. The 16-story building, which offers 670,000 square feet of space, is located at the NYC Ferry stop. Comprised of Class A office space and infrastructure, the facility was one of the most significant ground-up developments constructed outside of Manhattan in decades. The building signed its first traditional tenant in October 2021, when Food52, the online home and cooking brand, committed to leasing 42,000 square feet across an entire floor. The brand relocated from Manhattan, signaling a potential trend. For a minute, it looked like Vice Media would be signing a large lease at the building, but the company ultimately opted to stay in Williamsburg.
Huge signed its 12-year lease right when the New York office space market appeared to be picking up steam. Since the pandemic, offices across the city have remained largely unoccupied as workers continue to work from home. However, Manhattan office leases were up by 34.4% in July 2022 versus July 2021, and they were up 42.8% in June 2022 versus June 2021.
Indeed, the city's office space market is coming back to life. In fact, it may be why tenants like Huge are opting for new digs these days. Although leasing volume dropped by 3.9% quarter-over-quarter from the first quarter to the second quarter of 2022, availability tightened considerably. The second quarter saw an uptick in positive absorption and steadily increasing lease prices – strong indicators of a potential resurgence in the market.
With the economy improving and more jobs available than in some time, offices across Manhattan and the city are apt to keep filling up in the months to come. In March 2020, NYC's unemployment rate stood at 4.5%; by May 2020, it had soared to 21.0%. As of May 2022, the rate had dropped to just 5.7%, suggesting that more office workers should be returning to towers across the city in the months ahead.
In the second quarter of 2022, leasing volume was more than 60% higher than the same period in 2021, when only 4.55 million square feet were leased. During the first half of 2022, nearly 15 million square feet of space were leased – a 64.2% increase over the first six months of 2021, when only 9.11 million square feet were leased.
Meanwhile, averaging asking rents have been creeping up. During the second quarter, they increased by 0.7% across NYC, resulting in an average price of $75.61 per square foot. Prices have increased for several quarters, racking up the biggest streak since 2019.
With its new digs at Dock72, Huge, Inc. will enjoy some of the most innovative office space in the area. The building offers 14-foot floor-to-floor heights with 8-foot vision glass panels, ensuring plenty of light and space for busy tenants. The property features dual cores and two entrances – one on the land-facing side and one on the water-facing side.
Dock72 further distinguishes itself with its vast array of amenities. The property offers more than 35,000 square feet of extras, including an outdoor basketball court and a rooftop conference center. Tenants enjoy access to the 13,000-square-foot on-site food hall, which offers an array of organic food, beverage and coffee options. The property boasts a lot of active vegetated space and is LEED certified for sustainability.
The iconic new Brooklyn tower also features multiple well-appointed lounges, an open lawn with game tables, a lecture-style conference room with seating for 200, a bike valet and four rooftop gardens on setbacks. Additionally, many units include private terraces. All told, Dock72 has more than 18,000 square feet of private terraces, providing a unique indoor-outdoor work experience. If you're interested in leasing space at this trend-setting new property, BCP Real Estate Group can help. Contact us today for more info.