February 10th, 2021
SoHo Office Market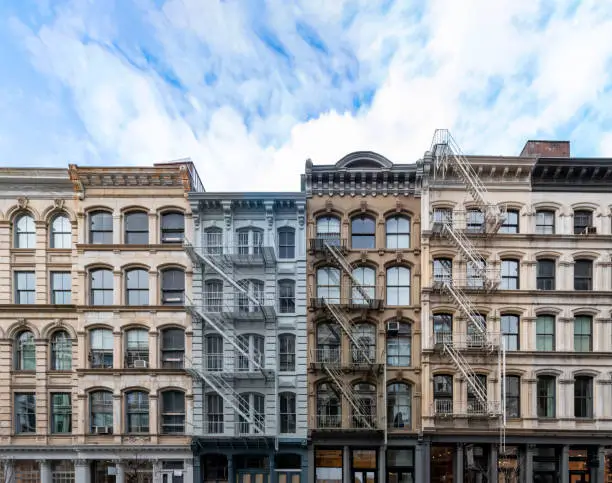 Home to a dizzying array of prestigious companies and brands, SoHo is one of the world's most sought-after office locations. Asking rents for SoHo office space are the highest in the city; even post-pandemic, competition for the best space – typically in roomy, converted warehouses – is high. It pays to have the right assistance to identify and secure a suitable office in this vibrant Midtown South neighborhood. BCP Real Estate Group, headquartered at Rockefeller Center, is here to provide it. You can start now by signing up to search our NYC commercial real estate listings. First, get up to speed about SoHo's office market.
Current Office Market Conditions in SoHo
In the fourth quarter of 2020, SoHo had approximately 8.9 million square feet of space for offices, and nearly 19% of it was available. However, availability shot up in the wake of the COVID-19 pandemic, as employees turned to remote working and businesses downsized their offices. Net absorption for that quarter stood at -125,670 square feet, and that trend could continue well into 2021. Even so, asking rents for offices in SoHo are still the highest in the city. The average overall rent price was $78.58 per square foot. For Class A, the average was $100.25 per square foot; for Class B, it was $70.00 per square foot.
Bordered by Houston Street, Canal Street, Crosby Street and Sixth Avenue, SoHo was once dominated by industrial warehouses and activities. Many of those warehouses, which are overwhelmingly designed out of cast iron, are still standing but have since been converted for a variety of uses. Creative professionals flocked to SoHo for its airy loft apartments and condos, and many chose to set up shop there permanently. Today, loft and warehouse offices are among the most sought-after options in SoHo, and many are located near prime live/work/play developments.
Creative firms, including fashion and media companies, rent hundreds of thousands of square feet of offices in SoHo. Although architects and artists still thrive here, many other businesses make up the local market landscape these days, including ones from the banking and real estate worlds. TAMI tenants – businesses in technology, advertising, media and information services – are also drawn to SoHo. Significant tenants located in this neighborhood include MAC Cosmetics, Adidas, Wells Fargo, Western Union, the New York Film Academy, Creative Circle and HSBC.
Benefits of Leasing SoHo Office Space
One of the top reasons to lease a SoHo office is simply the prestige that accompanies it. In certain industries, having a presence in SoHo is a must. The neighborhood is well-connected in terms of transit. Subway lines that run through SoHo are as follows: A, C, E, N, R, Q, J, 1, 2, 3 and 6. The Prince Street station is located in the heart of the neighborhood, making it easy to access the rest of the city. SoHo benefits from its proximity to other major commercial neighborhoods, including Tribeca, Greenwich Village, Chinatown, Little Italy and the East Village.
Lease an Office in SoHo with BCP Real Estate Group
While offices are more widely available in SoHo thanks to the pandemic, things are sure to swing the other way once everything settles down. Even with greater availability, identifying space that meets your business's unique needs is easier said than done. BCP Real Estate Group will give you access to our huge database of searchable NYC commercial real estate listings, allowing you to check current availability for offices that suit your needs. When you're ready for a referral to a SoHo commercial real estate agent, broker or tenant rep, we can help. Give us a call today for more information.