April 19th, 2021
The State of the NYC Office Space Market in 2021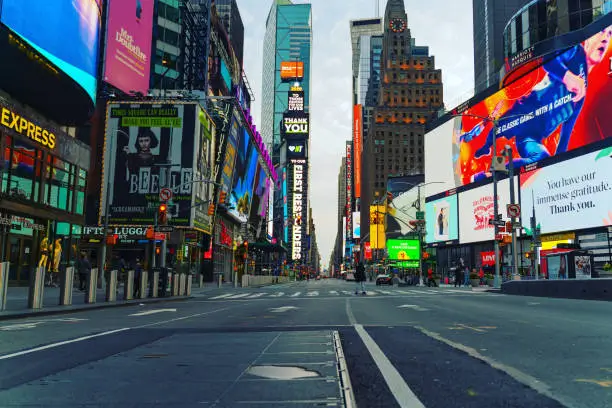 With office space more readily available than it's been in more than 30 years, it's a strange time for commercial real estate in New York City. Now that the first quarter of 2021 is in the books, the pandemic's impacts on office space availability, asking rents and other variables are clear. Landlords are scrambling to stay afloat while tenants who were previously priced out of Class A properties are now easily acquiring them – and they're enjoying considerable concessions to boot. However, with vaccine distribution well underway, things could begin shifting as the year progresses.
According to a recent report covering the NYC office market during the first quarter of 2021, the share of Manhattan office space available for lease stood at 17.2%; one year ago, the figure stood at just 11.5%. Last year at this time, 7.9 million square feet of office space was leased during the first quarter. This year, only 4.1 million square feet were leased over the same period. Sales volumes for office properties plummeted too. The first quarter of 2020 saw $400 million in sales volume for office properties. For the first quarter of this year, that figure shrank by nearly 90% on a year-over-year basis.
Not surprisingly, asking rents for office properties in Manhattan continue to drop. For quarter one of 2021, they were down by 9.1%. Even with much lower asking rents, however, landlords continue to struggle to fill space. As a result, many are resorting to offering concessions that were practically unheard of in regular times. On average, Manhattan landlords are offering 17.4% more free rent for Class A offices. Others are offering more generous tenant improvement allowances, and some are even offering free build-outs to entice tenants into their buildings.
Clearly, then, it's a tenant's market in the world of NYC office space these days. If you are looking to lease office space soon, you are well-positioned to negotiate your way to incredible deals. Although many major tech companies broadly expanded their NYC footprints in 2020, including Facebook, Google, Amazon and Apple, office space remains readily available across most submarkets. Not surprisingly, it remains most challenging to come by in Hudson Yards, where availability stood at 12.3% for Q1 2021. At the same time, though, some pretty hot submarkets have incredible availability currently. For example, SoHo has a vacancy rate of 27% while Flatiron has an office vacancy rate of 22.6%.
Another way to gauge the impact of the pandemic on NYC office space is by considering the types of sales that were completed over the last quarter. As mentioned previously, sales volume for offices in NYC fell by more than 90% on a year-over-year basis from Q1 2020 to Q1 2021. One of the most significant transactions was made by Brookfield Asset Management, which purchased a 25% stake in Tower 46 from S.L. Green for $275 million. For the sake of perspective, office deals worth a total of approximately $3.8 billion closed in the first quarter of 2020. The most significant lease was signed by Blackstone, which renewed its lease for 720,000 square feet of office space at 345 Park Avenue.
One of the most exciting aspects of the current state of the NYC office market is how things have flipped in favor of tenants for the first time in ages. Startups and midsize companies, which usually struggle to acquire Class A offices in NYC and compete heavily even for Class B and Class C properties, now have lots of options at their disposal in submarkets where they usually would be unable to consider.
With all of that being said, NYC office rents are still high compared to most other office markets. In Manhattan's priciest submarket, Hudson Yards, asking rents averaged $128.66 per square foot for Q1 2021. Office rents were also high, $88 per square foot and upwards – in markets like Plaza North, Plaza South and Greenwich Village. On the other end of the spectrum, the City Hall submarket has 17% availability currently, and the average asking rent is $52 per square foot. Firms that want better space for less – and with concessions thrown in to boot – should act quickly to take advantage of this unusual situation.